Coming Up
Sunday, May 7th and Saturday, June 4th 2017: Step into the World of Harp
Have you always wanted to play the harp? Coming soon to a library near you: take a closer look with Katryna Tan! Katryna will share her journey and adventures of being a harpist in Singapore. There's no better way to relax than enjoying an afternoon of beautiful harp music whilst also learning more about the harp as an instrument. No registration required – click on the poster to find out more.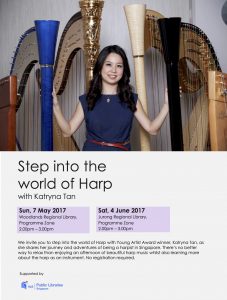 ---
June 25th and July 13th: Pluck! 2017
Pluck the fairy protector of music returns for another exciting  adventure. Something is amiss in the Harp Kingdom of Enchantia: people are forgetting how to make music, and Pluck must find out why.  Helped by her fairy friends – MEL, BEATBOX & HARMONIA – Pluck embarks on a journey through time to find the Magical Banyan Tree. Come help her rescue Music before it is completely forgotten.
Pluck! , the world's only harp opera, shot to fame in 2012. Since then, it has gone from strength to strength and also boasts a sequel – Pluck and the Magical Banyan Tree. Rave Harps, the pedagogic and artistic organisation associated with Camac Singapore & Malaysia, is now taking Pluck on tour! There will be two performances in Singapore on June 25th. In July, Pluck! will then be part of the 13th World Harp Congress in Hong Kong.
Past events
Katryna Tan and her colleagues have been developing the harp world in Singapore and Malaysia for over a decade. Both countries now boast  thriving teaching centre – Rave Harps – which run busy events programmes. Camac Harps are frequently proud to sponsor their projects. These include three previous editions of Pluck!, masterclasses with world-class artists like Isabelle Moretti, concerts featuring both international stars and home-grown young artists, and much more!
Past Events 2017
March 31st: Classic Meets Jazz, Jakarta
Camac France President Jakez François made a rare concert appearance with Katryna Tan. They performed in Indonesia with Heidi Awuy and Iswara Giovani, with a mixture of classical and jazz.